May 2008
So, I survived the entire month of April.
I prospectively have a load of stuff that I will be able to eat during the year and through next winter. Which is part of what this project is all about. Only part. There are many skills which I need to develop as the project continues. I suppose that my enforced abstinence from the Internet is actually a good thing, as it stops me from getting side-tracked with whatever is going on in the world of 'Peak Oil'. Although the odd snippet reaches me, such as the bit that I mentioned on 29th April. All part of a bigger picture. The price of crude has risen by $10 in the short space of time I have been here - I make that over eighty percent per year increase. Enough gloom and doom! Got enough of that in the earphones.
Potato crop increases by the day - so long as no nasties eat it! I have nine recognisable spud plants in the first row I planted and eleven in the second. Still a way to from the couple of dozen that are supposed to be in each row. I put in a solid mornings digging, in fact up until just gone 1pm. I keep getting bitten, fortunately not in as sensitive a place as my eye. Today I actually felt one on my arm and looking down there was this mosquito busily having its breakfast! It got the back of the sooper-dooper size fourteen gardening glove for its trouble. Both my arm and the back of the glove were smeared with blood. Then I realised - yes, MY BLOOD!! I was literally just finishing off raking it reasonably flat just gone 1 pm and, right on cue, it started raining. It looked like it was setting in for the afternoon, so that put the lid on any more outdoor stuff, and it was a steady rain - enough to get wet in! Had lunch and went on to do some woodworking. I was about to pack up, getting on towards 4pm, when all hell broke loose. It absolutely tipped down, and there was a flash and two seconds later the bang. That's a bit less than half a mile away. (I always count, if I see the flash - five seconds to a mile is close enough). There was absolutely no way I was going out in that! All my little plants in their pots were out in it - they would just have to take their chance. Afterwards, purely on the basis of an empty vessel that I had happened to put out there, I reckoned that in that storm we had about an inch of rain in about fifteen minutes.
Rather short today - have loads of stuff to talk about but have run out of steam. Later.
Elgar and Ennio Morricone - separately, you understand. Just finishing off with Gabriel's Oboe. Reminds me of the flute band.
Up early, a nice bright morning, quite cool, but pleasant. Had a quick walk up and down the plot - all very wet after yesterday. I turned over one lot with the spade - that's a no-no then, just too wet. So I went for the reorganisation bit instead.
| | |
| --- | --- |
| | This little lot is all part and parcel of reorganising the wood that is lying, and/or standing about everywhere. The lean-to with the poles against it is, believe it or not, the coal house complete with a meagre supply of solid fuel that I have no intention of using. The whole lot has to go! |
I set about the stack of wood lying in front, at the cost of the mattock early in the proceedings. The handle was decidedly dodgy anyway, and using a tool otherwise than what it is designed for is a certain recipe for disaster. About ninety percent of it is only fit for burning. I have a simple test - pull it out of the stack and lean on it. If it breaks, firewood. Works for some quite big bits of timber - certainly up to 6 x 2 inches. This is what I ended up with:
| | |
| --- | --- |
| | |
| This is the stack that is fit only for sawing up and burning. | This is the wood that is fit to use (some of it is only fit to use in the garden). |
| | |
| --- | --- |
| I had been working away for the best part of an hour when I discovered this little chap. He was more or less completely hidden by the weeds and grass growing through and around all the stuff, and had taken root between two of the lowermost logs, yet to move. I don't know what species of tree it is, but I am very tempted to dig him up and find a nice open spot in the garden to flourish in. Ahhh!! All sentimental about a little tree! | |
I had put the sign out that I had post for collection, so I stayed well within earshot for when the post lady arrived. Which she promptly failed to do. I noticed it before at Easter, when, in spite of being told that Good Friday was a normal day, nothing much happened. Well, nothing much happened again. Which is a molto pain, as I really needed one of the items to go today. That changes any plans I may have for tomorrow - it will have to be Körmend and see if the Posta is open. Blast!!!
I kept at it quite long, as part of the mayhem is that I need to clear the area next to the coal house, and that is where I threw the polythene that was the old greenhouse. I chose to clear yet another outhouse - one that I am keeping. As it happened there was a fair amount of usable wood in there, so that went on the stack to store. There was also more firewood, so I started yet another stack, but I got it cleared. I ran out of steam then, as I had not even had lunch.
After lunch I went on to a bit of woodwork - mending the mattock. Fortunately there was plenty of shaft left - it broke off clean where it goes into the head. After that I knocked up another compost heap frame. I also decided to have yet one more go to see if I could sort out the roller shutters, or at least the one the doesn't work. Well, it certainly doesn't work now! When I tried to pull it up, there was a crack and the webbing that is inside the house went slack, causing me to skin my knuckles on the window frame. Reminded me of Hoffnung and "The Barrel of Bricks". If you haven't heard it, it is worth a listen. I have seen it written down, and I've heard other people do it, but they just don't have the delivery of Hoffnung.
That was enough for the day. The lack of postie, and the lack of success with shutters took the edge off a day which otherwise I would have looked back on with satisfaction. No music - watched "Love Actually" instead. (Old softie!!)
Hmmmm! Just got up and had literally just sat down with my coffee and biscuits, when there was a particularly strong gust of wind, followed by a series of bumps and thumps ending in a loud crash. "What on earth was that?", I thought. (I didn't actually - it was a bit stronger than that. It's on one of my tee-shirts, that one of my daughters wouldn't buy for me). It took me a few seconds to identify where it had come from, but then I noticed that the summer kitchen door and frame were no longer precariously attached to the building, but were in fact now detached from the building and horizontal on the floor! Ah, well, little matters - I strongly suspect that that door was going to have to stay open for a while, as I think I have lodgers in the summer kitchen. Finches! I have seen them flitting in and out. I can't see a nest, but with the construction of the building and eaves that is not surprising. Don't ask me what sort - I just know they are finches. They eat dandelion seeds. Greyish chest, dark plumage with a splash of white under the armpits, and a very distinctive tail with a fork of rusty red either side, skilled hoverers. You tell me.
I moved the debris into the summer kitchen, and that was an effort on its own. The frame is one piece of 5 x 5 (inches) plus facia and backing boards. The door weighs a ton. That's one mini-project that will be amended. No need for doors like that - no need!
As forecast yesterday, the mission had to be Körmend. It was quite a pleasant cycle ride, in spite of the stiff breeze. It was never right in my face, either going or coming. Of course first call was Posta - open or closed? Open! Good! Once again I had to run the gauntlet of surveillance by the security guard (a different one). Do I look that much like John Rambo in my rucksack and coat of many pockets?? Anyway, hopefully success, as the most important job of the day was to make sure that I air-mailed my grandaughter's birthday card :)
Next, I thought that Saturday morning would be a good time for me to try and make head or tail of an ATM in magyarul. So off to OTP Bank. Success No. 1 - the swipe lock let me in! Success No. 2 - I had successfully changed my PIN. Failure No. 1 - identify the option that get you some cash!! I kept having to hit the 'IGEN' (YES) button - do you need more time? By that, a lady used her swipe card and came in, so I just hit the 'Cancel' button (which fortunately is tri-lingual), and stood aside and let her get on with her transaction. She grabbed some cash, so while she was putting it away in her purse I had another go. I suppose the give-away was the dictionary, but she could see I had a problem. "Kíszpenz?" (Cash?). "(Me) Igen" (Yes). She showed me which button to press, and it immediately came up with the withdrawal options which were obviously recognisable. (They start at 1,000 Ft = £3). I thanked her and she said "You're welcome." (in magyar, obviously). Would it give me any money? Yes, it did, so I presume I'm in credit. Same old, same old. The lady could see I had a problem, so she just jumped right in and helped. Part of the Hungarian psyche, I think. Thank you, anonymous Hungarian lady.
That was enough for the day (small steps, small steps). So I headed back to Halogy. Ended up in the pub watching Manchester United stuff West Ham 4 - 1. I really must tell you about the pub. Did a bit more house weeding when I got home. Surprisingly, on such a small scale, it is actually more tiring than the really serious stuff that I am having to get out of the main garden (and the
camping lawn
).
Canteloube - Songs of the Auvergne
Not much to report, except that some bastard ate one of my lettuces - complete. Gone!! Typical day really. Nothing fell off the house. More digging, sowing of seeds in various states of germination. Potato plants continue to appear - got to have top side of thirty now from the first two rows planted. Cleared some more rubbish from the ex-coal house area. Amazingly the two really long poles that were close to the bottom of the heap appear to be sound - most weren't! Good - I have a plan for them.
Judging by the lack of customers, and the promptness with which me and the only other customer in there at ten to nine tonight got chucked out, I think I may have misread the script as regards May Day Bank Holiday. I was convinced that I had read that it was, as yours is, on the first Monday in May. That could explain why nothing was happening on Friday, and yet the shop opened as normal. Confused or what? I'll know tomorrow. I was going to post a couple of extra pictures here, but the selective focus on the camera took charge - I must really learn how to turn it off!!
RVW. Must be feeling particularly "English" tonight. Mind you, that depends on whether you consider Down Ampney in particular, or Gloucestershire in general to be England or Wales. As for me, well at least I can always feel "English" or "Welsh".
What did I do today? Dig! More of that in a moment, but before that I decided to have a quick ten minutes of photographical genius. I have said before about having a bash at the old infra-red stuff. Unfortunately, I still can't find my eye-piece cover, but today I managed to find a substitute. I wish I could afford an IR filter for my zoom lens on the Nikon, but the last time I looked it was about £130. That would be a no-no then. I must have been a bit flush when I bought the one I have.
<Technical Discussion> The manufacturers of digital cameras were a bit put out when they found out the infra-red capabilities of the CCDs they use. To get around this they fit an IR-blocking filter in the camera in front of the CCD. Unfortunately it is not quite good enough. These pictures are shot using a Wratten 87 (equivalent) filter, which is quite a hard IR cut-off. Black glass, in other words. If you look through it at a high powered tungsten light you can just about make out the light. Now, the thing about foliage - particularly bright green foliage - is that it intensely absorbs red light and intensely reflects everything else. Us human beings, unable to see infra-red, therefore only see what is in the reflected visible light spectrum. i.e. green. Using IR we get a totally different view.</Technical Discussion>
Anyway, the pictures. Enjoy the surreal effect. It really needs standing water to complete the picture...
No.1 looking up the yard from the house: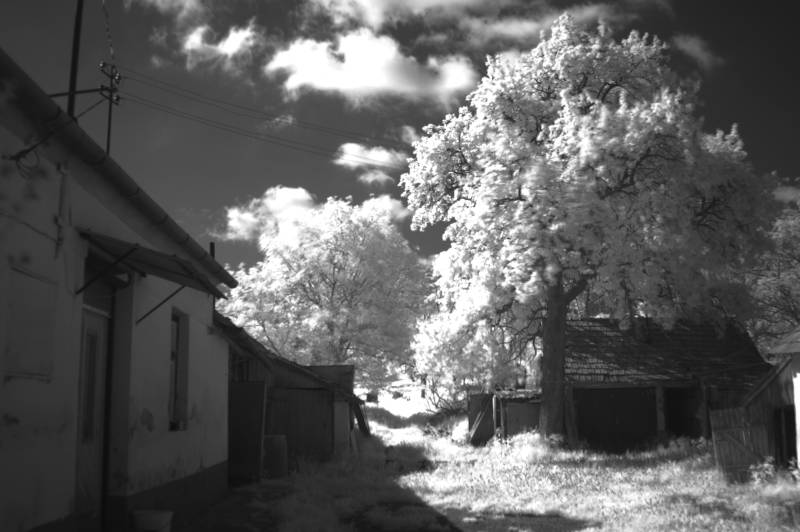 No.2 looking back down the yard towards the house: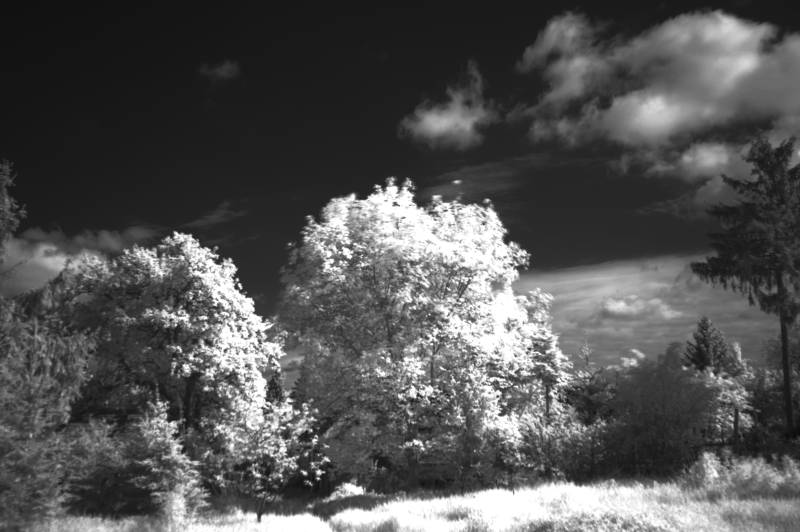 Interestingly, why don't conifers do that? Notice the one in the last photo, on the right. It appears quite dark - therefore it absorbs the IR.
I had to drill another hole in my belt to stop my jeans falling down. Not surprising considering that today I dug for nearly six hours.
| | |
| --- | --- |
| | I guess I can justifiably call this one of the camping lawn "during2", considering what "during" looked like on 7th April. I have about another hours digging, then I need to walk all over it on a couple of boards, then I need to rake it flat again, then I need to roller it and rake it flat again. Then I have to rake it again to a fine tilth and mark it off in one metre squares, then I have to weigh the grass seed at one ounce per square metre and wait for it to rain and apply it. Then I have to gently rake it in. AND THEN, with a bit of luck, in a couple of months I'll have a lawn. |
I had another go at the pictures that didn't work yesterday, with a bit more success...
| | |
| --- | --- |
| | |
| Baby pears. | Baby walnuts. |
Shostakovich.
After yesterdays exertions, I had a bit of a different day today. Not without its surprises! Most of the morning got taken up with domestics. Creeping on to lunch time I decided to see how the veg garden is doing - such as it is at the moment. The success story this time seems to be the spuds. In the two rows I first planted I have twenty-two plants in one row and (I think) eighteen in the other. There are very few gaps. A couple of the peas that I pre-germinated are showing their heads, so that bodes well. And the broad beans continue to flourish, complete with the ants running all over them - is that about aphids? I can't remember. On the way back down the yard I had a quick scan round for where the logs are lying around, as by now they are pretty well hidden by the scrub and savanna. I knew where one lot was, and I rediscovered the other lot. That wasn't all!! there curled up on the top of the topmost log was this dainty little
snake
. Mainly black with banded markings, about 2cms diameter, and I would guess maybe 45cms long - hard to judge when they are coiled up. Anyway, I moved again and it shot off into the undergrowth so fast I didn't really see which way it went. That's fine by me, it keeps out of my way, and I'll keeps out of its. Tried to identify it and failed (resident expert???). It is not the Hungarian meadow viper, I don't think, as that is brown and has zigzag markings.
After lunch I cycled to Nádasd to see the nice man at Bödő for some "virágföld", which quite quaintly literally translates as "flower land" - to you and me, compost! I bought 20 litres for just top side of 500Ft - about £1.50. That's a bag about 70cms x 30cms x 12cms - just enough to go in the rucksack, and just about a reasonable weight to carry.
Did a load of potting on and pricking out later, as well as sowing some more new stuff. Oh, guess what! The Kiwi fruits finally germinated. It is like a time switch was thrown - nothing yesterday, a whole bunch today. My resident expert says that they are either male or female. How do you tell the difference? And do you need one of each to start a family?
A few more words about Hungarian village life - not that, in many ways, this is a typical Hungarian village. Hungarians get up early and go to bed early. The pub opens at 6am! I think the shop opens at 7 - don't quote me, I don't get up quite that early. 7.30 or 8am is early enough for me. By about 9am, there is virtually nothing to see or hear. The very occasional vehicle passes by, but very few people about. I don't know where they all are or where they go. Many times when I have been out digging at say 9.30am all I can hear is the twittering of the birds in the trees, and the distant chatter of machine guns, with the occasional heavy thump of artillery or mortar fire. (I jest, of course.) Off topic, but speaking of birds one of those great big birds of prey overtook me while I was cycling to Nádasd today. I still don't know what they are, but they look very much like red kites. Wingspan about three feet - big bird. It sailed past me, on the wrong side of the road, and hung an abrupt left into the trees. I digress again. The old lady next door to me is fairly typical. They all wear what I would call a house coat. If you can remember Ena Sharples in the first ever episode of Coronation Street, you'll know what I mean. Head scarf and stout shoes. Her chickens dutifully follow her about as she hoes the land. Big fine birds they are too. They actually seem genuinely fond of her. I don't know what breed they are, but to repeat, they are fine birds. In the afternoon and early evening you will find people sitting out, or talking over neighbour's gates. once the sun starts to set, that's it. When I come home from the pub it is very rare that I see another person on the street. It is even like that in Körmend. When I arrived there, it was about 7pm, and I did not see anyone on the street until I got to the town centre. I really must get around to writing more about the pub, but not tonight.
Scheherezade, plus a bit of brass band.
Dug - again! Well, at least that is one major digging project done. I can at least go back on the veg. garden and dig a couple of rows fairly easily - even if I have to heave a fair load of weeds out. I was going to cycle into Körmend tomorrow and do some official-type stuff, but getting the crops in is more important. It's a bit like being the survivor on the "Marie Celeste" and being undiscovered. Nobody in officialdom seems to either know or care that I am here. The house, outbuildings, land are all as if they are waiting for someone to come back - but nobody is here except me.
Controversy. Now there is a word to conjure with. I'm told that this blog is controversial. Well, if so, good. I can only guess that the only thing here that is controversial is the "Peak Oil" aspect. Fine. Study the graphs, people!! It will happen, and I think it is happening right now. Think about how difficult it is to obtain a 'hand' anything. I have asked my contacts here for a non-motor push lawn mower - err what? The western world is utterly dependant upon outside (i.e. provided by Electricity Companies, or by the power of crude oil) energy sources for every simple possible means. I had hoped it was not quite so prevalent here as it is!
Was a time when if you wanted nice straight boards of wood, you stood in top of the pit, and you made your son (or daughter, if she was a fine strong girl) stand in the bottom of the pit, and between you, you would use a log saw to cut whatever into board-sized slices. I guess a big solar powered Stirling engine could do it - probably a bit quicker and neater than you and your fine daughter.
The dependency is greater and greater. Even here I find that some people are amazed that I am prepared to cycle to Körmend and back, just to send a birthday card. I wonder what they would say if I cycled to Szombathely, just to obtain residency? It's only about thirty kilometers! (Note to resident historian - was it Rossini that walked a hundred miles to hear a concert, or was it someone else that walked a hundred miles to hear a Rossini concert?) Would YOU walk a hundred miles for ANYTHING????
I'm getting political. On a lighter note, my eldest grandaughter was four today - I spoke to her for about four seconds :) On a more serious note, my good friend in the UK has been taken into hospital. I hope all goes well there!
Nem muszica!
OK, mistake! I need to reorganise the day, yet again. The mistake was doing the domestics first. Cleared the ash out the stove, tidied up and had a whack round with the mop. Then a coffee and a smoke, so it was eleven o'clock before I got my boots on. Mistake! It was already so hot out there that I could only manage an hour at a time before seeking shade and (non-alcoholic!) liquid intake. I still kept on until 4:30pm. And then I went to the pub.
Which was, sort of, closed. Well, the bar was closed - they are doing a fairly big refurb of the actual bar. By that I mean the bar that you go to to get served, not where you sit and drink. I noticed yesterday that all the nice tablecloths, etc., had vanished and wondered what was on. Now I know. Not to be outdone by lack of trade they simply made everybody drink in the yard, which is actually very pleasant. It faces east, so was in the shade, and there are a couple of big tables with awnings over and bench seating for probably sixteen. They were serving from a 'beer fridge' just across the yard.
Time to tell you a bit more about the pub, I guess. Well, as you can probably tell from previous entries, it isn't quite as busy as the 'Shelley', but nonetheless it is in many ways so similar. Obviously, in a village with a population of three hundred odd, the pub population is a bit limited. It's very much a regulars pub. The characters are recognisable - in many cases I could name counterparts of the characters from the 'Shelley'. The landlord has to be top side of sixty five, but a very energetic character that stands no nonsense. His wife (I take it to be his wife) is a very pleasant lady who is always around, serves occasionally and bustles around clearing up at the end of the evening (9pm!). (post scriptum to the bit about the landlord. I noticed today (9th) a black and white photo behind the bar. It is a photo of someone in weight lifting gear, with what looks suspiciously like an Olympic medal round his neck. I wonder if it's him. If so, no wonder he is such a fit and active guy! post post scriptum. The picture was taken in 1966, so it wasn't Olympics) It's the only village bar I have been in, so I have no yardstick for comparison with anywhere else here. There is a very different sort of drinking pattern from what you get in the UK. What they do is to drift in and out all day (starting at six in the morning). They shoot in, neck one or two down, and disappear, then in an hour, or maybe half an hour, or maybe two, they come back and neck another one or two down. They don't do what we do in England and sit in the pub for a 'session'. Saturday afternoon is different. That is when I see people that never come in any other day - a bit like the Sunday lunchtime session in England.
Anyway, with the pub being closed tonight, I got to sort of communicating with some of the regulars that I have only been on a nodding acquaintance with. I managed to spread the word that I actually like it here (don't know whether that makes me more or less popular) and that it is my choice to live here. There seems to be a growing momentum with the regulars to teach 'Istvan' 'magyarul'. Cool!
Körmend tomorrow, by bike. Must try and get the Land Registry thing sorted, then I can organise a Szombathely trip next week and apply for residency. Did I tell you that Szombathely means "Saturday Place", and Vásvar means "Iron Town"?
10pm - shattered. 10cc. Still no sign of Internet!!! Grrrrrrr!
I already indicated that I needed to try and get the Land Registry thing sorted, so today was the day. I knew they closed at eleven, so aimed to be there nicely by a quarter or half past ten. When I went outdoors, I knew immediately that it was not the day for the "Coat of Many Pockets", so I stuck all the necessary paperwork into the top pocket of the rucksack (szotar, passport, etc.) and set off in shirt sleeves. I didn't bust a gut but got to Körmend by about a quarter past ten, knowing that the Land Registry is open until eleven. I had a hell of a job to park the bike!! Yes, true. There are bicycle parking places all over Körmend, but most were made before the days of mountain bikes with big chunky tyres, and I had to go about two hundred metres before I found a space where I could lock the bike up. Would not have made a lot of difference if I had a racer with skimpy little tyres - all the bike parking spaces were FULL. I wandered back to the Land Registry hoping to find it somewhat less crowded than before. No, it wasn't, it was worse. I determined to stick it out. I found the right form to fill in - there are two boxes of them. I think perhaps the other one is for if you want to get married!! I gradually worked my way up the queue, knowing that they shut at eleven. I was a bit worried that they just shut up shop at eleven o'clock and you had to go away and come back another day. At least it wasn't like that! At two minutes to eleven a somewhat stony faced lady came out and locked the outside door. At about five past eleven I finally got in - face to face with the lady. Fortunately I was primed with all the necessary, and in spite of a marked degree of lack of communication was out of there within five minutes. Job done! I still have this half a problem that when you say "Angol vagyok. Nem értem magyarul." (I'm English. I don't understand Hungarian), they continue to go for the magyarul bit. It may be a bit naughty, and it will probably land me in the dudu, but I tend to go with the body and intonation indicators, just saying yes or no as I think appropiate.
Did a Tescos. Considered whether to get more cash and apply for a "Real" Visa card, and discounted both possibilities.
They tell me that the production of kerotin (sp?) i.e. hair and fingernails is inversely proportional to the production of adrenalin by the body. I have to say that I have never known my hair and finger (and toe) nails to grow so fast. Adrenalin is the "fight or flight" agent. Lack of adrenalin indicates peace and tranquility.
I have an oak tree! It's not very big, and I think that perhaps (unwittingly) Tibor ran over it with his tractor. It will need some serious remedial work! Have you noticed how I can get quite, err, involved about trees? All part of the "Controversial" nature of this blog. We - "Homo sapiens" (must brush up on the Latin, but does that not mean "Understanding Man"?) - are guilty of coming close to destroying the capability of our planet to sustain life. I'll be back on the controversial thread in a moment.
Cycled back to Halogy, and, it being a hot day and being dehydrated...
Nobody got even close to my little brain teaser that I asked a few days ago. It was nothing to do with the pottering shed. A consultation of English and Hungarian dictionaries will lead you nearer the mark. Flour, flour???
Went home, trampled about a bit on the
camping lawn
and then went to the Faluhaz to get on the Internet. Checked my e-mails, replied where necessary. (Why is it that an e-mail FROM a Hotmail account that goes to another account and is then forwarded from there to ANOTHER Hotmail account is either flagged as Junk, or flagged as 'DANGEROUS'?? Anyway. Here comes another controversial bit. But it isn't.
Once I checked my e-mails, the first page that I went to, using Firefox, of course, was
http://news.bbc.co.uk
where I was surprised/not surprised that the very first headline ticker (you know, the annoying stuff that scolls across the top) was a headline about oil shortages. The world is screaming for more oil, and once again OPEC says supplies are sufficient. Now, they are either lying through their teeth, and they have 'peaked' and won't admit it, or they are deliberately holding back. The results are the same. They have repeated the same line since (guessing, but not far off) about last November.
Interesting reception in the pub tonight. After yesterdays little session in the yard, people that tended to ignore me are now on nodding acquaintance. Nice. Small steps.
Not one of the best days. Probably on account of waking up with a hangover. Can't understand how that happened! As a penance, my task for the day was continuing to weed by the side of the house. Slung some stuff in the slow cooker (veggies can skip this bit). Onion, leek, potatoes, lentils (green), garlic (of course), salt, pepper, loads of paprika to make it the proper red colour and what is descibed on the pack as "pig thigh, bone removed, sliced". 579 Ft = about £1-60 for about twelve ounces. It shows on the till roll as "TS.SERT.CO.SZ.CSN.V". I suppose if you are Hungarian you can sort that out :)
I did have a walk up to the veg. garden to see what is happening. Stuff grows (mainly weeds) but peas are doing much better this time. The second lot of spuds are starting to show too. On the way there I also (as part of the penance) chopped a bit better way through the undergrowth, and slashed down the nettles around the walnut tree. I also saw another snake. I think this one could have been a meadow viper. Its behaviour was totally different to the last one - it knew I was poking about but it stayed put. I wonder if the snakes eat the frogs?
Ate then went for my Hungarian lesson. (Guess where). There was a brief article on the television news about the price of fuel. Sorry it's a bit short today.
Tavener.
Up bright and early this morning - 7:30. A bit different to yesterday!. Carried on on the veg. garden. I was out there by 8:30. By ten o'clock the heat was intense enough that I had to take a break. I had done about a third of a single spade-width trench across my ploughed field. It was 2:30pm when I finished that one row. The problem is the enormity of tackling ground that has obviously been neglected for years. It is absolutely full of deep-seated and widespread weeds of all sorts. As I have said before, the time is not so much the digging as going through and extricating as much of the weed as possible. I console myself with Seymour's words of wisdom that it is actually better for the soil to have weeds growing than nothing. At the present stage, that's my excuse, and I'm sticking to it ;)
I planted a row of yellow pod haricot beans, locally bought. You can eat them raw in a salad, or treat them as haricot beans. The spade needs some remedial work. I have given it that much stick that the retaining screw has either bent or become loose. Didn't know I was that strong!
Did some woodwork, and a load of sowing the tender stuff, plus a load more of what I know I haven't got enough of. (I don't think that two iceberg lettuce will last me the summer!!)
My mobile has been playing silly whatsits all day. It switches supplier about every ten minutes, and I am not sure whether one lot of credit has gone through or none. Down to 17p, and have two important messages queued to be sent that won't send. I suppose I will have to bite the bullet and get a Hungarian one as well, for just in case.
You lot must be bored by now reading about digging, so I have put together a little pot-pourrie of pictures of aspects of the house most of which
must
be fixed before the onset of next winter. Just to give you a flavour of the state of things. I will admit that it is already vastly improved, particulary in the dampness aspect, just by having windows and doors open and by having the one steady source of internal heat. It has after all been closed up for many, many months. Pictures, with explanations:
| | |
| --- | --- |
| | Ignore the woodwork, although it will have to be done sooner rather than later. The window frames here are all hardwood and are remarkably durable. Also, although the softwood actual frames for the glass are softwood, there is no rot. Exposure degradation, yes, but no rot. The major concern here is the cracks in the window sill and the gaps between the window frame and the rendering. This (and similar faults) are the major factor in the degradation of the lime rendering to the outside of the house. |
| This is the door that I attacked when I first arrived because it would not close. Notice that because the top of the door would not pass the frame the door is warped, and whilst it now snugly closes where the lock is, you could drive a No. 22 bus through the gap at the top. Hopefully, easily fixed with a couple of buckets of boiling water. | |
| | This is the result of the lack of sealing between window and rendering. Note the brown bit, not on good condition. That is the actual clay shell of the house! |
| Another bit of rendering falling off. There's lots more!. Note the small dark brown patch. Clay shell of the house again. Note also the 'bits' sticking out. That is miscellaneous ironwork that has been forced into the clay to attempt to bond the rendering to the house. Not how it is supposed to be done with lime rendering! | |
| | Another instance of the lack of sealing between infrastructure and rendering. This, believe it or not is the 'meter box'. You can quite clearly see the line from the bottom left going away vertically and then becoming more horizontal... |
| ...resulting in this further down the wall!! | |
Enough for today. I'll show you another half dozen examples tomorrow from Steve's House of Many Horrors. We haven't finished with the outside yet, let alone the inside.
No music - just plain forgot to put it on!
Up early to an azure blue clear sky, but by no means early enough. By ten o'clock it was blistering on the garden. I gave it best at twelve and moved on to other things. Repotting and sowing and such. What really caught me out was the fact that the shop didn't open and the Posta didn't arrive. Oh dear, thought I (bit stronger than that actually, having no milk for the coffee) it must be a holiday. I have just consulted with my ecclesiastical resident expert, and yes it is indeed pünkösd (Pentecost). (By the way, the consonant combination 'sd' is so awkward - the's' is pronounced 'sh' and the 'd' follows directly, with no vowel sound in between.) It is so long since we had a movable Whit feast in the UK that I had forgotten. One of my great regrets as a Brass Bandsman is that I never got the opportunity to to the "Whit Walks".If you have seen "Brassed Off" you have seen the Whit Walks. It is the bit where they go from village to village. They march into the village, form up and play a hymn and then march back out of the village. Each village has its own contest. It's world famous - at least as far as the North West of England.
I was taking my first break from the digging when I became aware of a lot of twittering of a type I hadn't heard before. I took a quick look out of the door, and my yard had at least ten swallows/swifts/housemartins wheeling and diving about. They say that one swallow doesn't make a summer. Well, they are here en-masse, so perhaps summer has arrived in Hungary! I was amazed by the way they wheeled and dived, passing within no more than about four feet of me without the slightest concern as to my presence. The are ethereally slight little birds - apart from the twittering they are absolutely silent in flight. Well, they are to my deaf ears. Their agility in flight is amazing.
A particular pair of them are taking a serious interest in the Summer Kitchen (the finches didn't stay, by the way - shame). I hope they do settle in. At present I am not worried about the mess, and if they stay, they can make a feast of the wretched biting insects around the place. I tried to get a photo of them on my washing line, but they didn't oblige. I also tried to get a shot of them flitting in and out of the Summer Kitchen. Ha! Fat chance! By the time I had even reacted and gone for the shutter release they were ten or fifteen metres away.
| | |
| --- | --- |
| This is the best I could do. You can see what I mean about the azure skies. Unfortunately it doesn't really show up their little red faces to best effect. | |
I don't think anything else of particular note happened in the day, so I'll continue my little picture show of Steve's House of Many Horrors:
| | |
| --- | --- |
| | More bits of house falling off! |
| This crack probably extends into the fabric of the house, i.e. the clay shell. Strangely, it is not a serious problem - quite common in these old houses and can be remedied without serious major construction work. Some weeks ago I put a pencil mark and date at the bottom of the crack. It hasn't changed since, so at least it appears to be stable in this condition. | |
| | Bathroom ceiling falling down - will have to be replaced. Due to water ingress where the main building meets the outhouse. Not a major problem. The rendering on the main house gable needs patching, and the cement grout between the gable and the roof tiles renewing. |
| Interior wall of kitchen. The limewash finish on the wall has cracked, revealing what I suspect to be layers of wallpaper underneath. Still not too big a problem, even if the whole lot has to be taken back to the shell and re-rendered. | |
| | An example of the windows not opening/closing properly. I moaned about this right back in March! Again, easily fixed, as, like the doors, all the hinges are the lift-off type. This means the remedial work should be easy enough, and with all the windows being double it will be possible to do exterior and interior ones separately and still have the house secure. |
| And Finally! Just another example of the state of the interior walls. Again caused mainly by the water ingress due to lack of sealing between windows and exterior. Oh! And those radiators have just got to go! | |
Brass bands again. Must have been the mention of "Whit Walks" that did it!
Up early, but not as early as I will be tomorrow! As usual, I stepped outside to savour the air - cool and sweet. As usual I left the door open - their aren't that many nasties flying about at that time of the morning. As I sat there with my coffee I was watching what I hope are 'my' swallows (yes, they are swallows - the red faces give it away - don't they always ;) ). I do hope they determine to inhabit the Summer Kitchen. They were twittering about outside, and flitting in and out of the Summer Kitchen. I lost sight of them, but I could still hear them twittering - more than normal. As soon as I left the kitchen I found out why. They had decided to 'suss out' the house as a better place than the Summer Kitchen. They were doing loop-the-loops, bunts, and kamikazi all over the big main room - crashing into the windows, etc. No wonder they were twittering. They found their way in OK, but they had no idea how to get out. I herded them to one end of the room, while I opened both sets (inner and outer) windows at the other end of the room. Then I herded them to that end of the room. Sure enough, within seconds they made good their escape. I've seen them on the phone wire since, but not going in and out of the Summer Kitchen. But, then again, at the time they are going to bed, I'm in the pub!
Did lots of bits of lots of jobs today, but once again my plans were derailed by the system. You remember that the postie operates an ATM machine from the back of the van. Well, it wasn't the usual postie. I actually managed a halting conversation with him, to the effect of "No maybe tomorrow". I simply don't have the magyarul to explain to him that I won't be here tomorrow. So it was a "Yes, OK, tomorrow". As I say, it messed up my plans as I intended to do a raid on Bödő for various bits and pieces, including a bucket that I intend to render useless as a bucket just as soon as I get home - don't ask, all will be revealed.
Speaking of conversations (Is than a pun? Not intended to be) the Hungarian lessons are going very well. What better way to learn the language than in the pub. I can, sort of, hold halting conversations, and I don't mean "Gimmee a pint".
Anyway, it's still going to be an important day tomorrow. No! I am NOT getting married!! And it is going to be an early start - 07:07 bus. All revealed tomorrow one way or the other.
Ella.
A good day, and a not so good day! Up
very
early for me, and it looks like I might have to have a few more! Later! Got up early (6am) to catch the
third
bus (7:07am) to Körmend and then get to Szombathely. Purpose of going to Szombathely? To register for residency. Didn't know whether to go by bus or train, so I checked out the times at the bus station, then walked just across the road to the train station and checked the times there. Bus was much more convenient, but I still had to wait the best part of an hour. Got to Szombathely to find that the bus station there was only just across the road from where I had been told to go. So in a couple of minutes I was there, only to be told that no, this is not the right place, you need to go to such and such a place. I had had the foresight to take a map of Szombathely with me, so the nice man indicated on my map where I should go, and kindly wrote the Hungarian name of it in my little black book. Interestingly, his response to my "Beszél valaki angolul?" was met by "Deusch?", when it turned out his English was in fact excellent.
Went to the address he gave me and found the office. Virtually the same thing again. This time it was compounded by the fact that the guy who was dealing me was also dealing with the electrician that was trying to fix something. He gave me a form (in English) to fill in, then disappeared. Came back. Took photocopies of the stuff I had brought with me and disappeared again. At this stage I didn't realise that he was dealing with the electrician and I was thinking "Oh, my god, what happens now". Well, what finally did happen was that he reappeared, made me sign in the box, twice and gave me my residency card. So that's it - I am officially a Hungarian resident. Apparently I just have to show that card at the border if I leave and return to Hungary and fait-accomplie. I will also, I believe, have a Hungarian ID card in about a fortnight.
Had a bit wander round Szombathely, ate, and headed for the bus station back to Körmend, just in time to catch the Halogy bus. so in Halogy, naturally - pub...
...where all hell broke loose. There is, apparently, a mjor problem with the state of the plot (of land). Ah! Good! Must admit it has been worrying me, but too many balls in the air. Someone offered to do the work for an unspecified amount. I thought to myself "I don't think so" (I actually thought something different to that and it began with 'F'. Shortly afterwards another person of a much gentler disposition came in and repeated the message but not in quite such stark terms. Bugger - I need to do something about this, and what have I got - a sickle!!
In somewhat of a turmoil, and in somewhat of a fury I went home and started to attack the offending plants with the sickle. One hour equals ten square metres. Now, the plot is three thousand square metres odd - nearer four thousand. Hmmmm, the math simply doesn't add up. Thoroughly pissed off and depressed.
Nonetheless, I was up very early and continued my efforts with the sickle to impress the neighbours and village authority. 07:30 until 12:30. All the time it was churning over in my mind what this project is all about. I had even calculated that if I put the whole plot down to lawn and used a push mower it would take me one hungred and thirty eight hours to mow the lot in a week - doesn't leave a lot of time for sleep, let alone anything else. What to do, what to do??? I could either abandon my principles towards "Peak Oil" or I could abandon this project. The old lady next door saw me at it, and came and spoke at me in Hungarian, and I got the impression of approval. I attacked the horrendous creeping vine weed that is pulling down the fence to next door when I made the decision.
Stopped everything, and dashed for the Körmend bus. Caught it with seconds to spare. Sometimes one has to be pragmatic. (Eee, I hope that comes up in a Google search).
I went to the farmer's shop in the square in Körmend, to be met as soon as I went in the door by a very cheery and helpful guy, who, of course addressed me in fluent magyarul. I think we might have been here before. "Angol vagyok. Nem beszélek magyarul" and I showed him my little black book with the magyarul for 'strimmer'. He quite cheered me up by saying "You speak a little.", and then asked "Motor?". "Igen" (yes). So he showed me what they had. I decided, and flashed my Barclays Visa card. Not impressed. OK, back in five minutes, I told him. Dashed to the bank, got the cash and dashed back. Bought the strimmer, much against my conscience, and to appease my conscience I asked if they had a scythe handle. Now that was interesting. Much consulting with the szotar. But yes, I got what I wanted. I went out well satisfied. In some sort of celebration I went and had a pint at the Halascsarda - the hotel I first went to in Körmend. It is only a couple of minutes walk from the bus stop.
Walked up to the bus stop carrying my naked purchases. Bought ready to go - in fact they fired up the strimmer in the back of the shop to show me how to use it. It's a bit of a convoluted picture after that, but ended up at 6:30pm with many, many square metres of the plot sorted and me with a mended scythe that in the right hands will outpace a strimmer by a long way. Someone offered to do the plot for a price, but I happened to know the going rate. If he asks again I think the second word might be "off".
Gershwin. Utterly shattered - BOOOIIIINGGG said Zebedee.
Another day, another...
Up very early again and attacked the offending parts of the estate with gusto. Na, actually I attacked them with the newly refurbished scythe :) At one stage I was doing four square metres a minute (quite well!). Let's see: call it 3200 square metres taking account of the house and yard (probably less, but divisible by four) That means I could do the lot with the scythe in 3200/4 minutes = 800 minutes = just over 13 hours. That's more like it! And it would need to be scythe high before I had to do it again. If only! That was the easy bit. I'm going to end up with a compost heap the size of the Empire State building! The difficult bit is such minor details as on my travels through the undergrowth I discovered a buried car, or at least major bits of a buried car. A FIAT. What better to do with any FIAT than bury it? I vaguely seem to recall from my days in the car transportation business, shortly before Lancia (built by FIAT) withdrew from the UK market, with one of their executives saying something along the lines of "The problem is that our competitors are suffering from excess build quality". Strangely enough, what was flourishing on the remains of the FIAT is a fine elderberry tree. Not a bush, a tree - just coming into bloom. Need another fermentation vessel, or several - elderflower wine!. From there I finally reached the neighbours fence, and I have to say that I am not surprised that they are kicking off! Nightmare. Managed to hack some down with the scythe, but then I got into the territory of "the collapsed grape vine" - vine, supports, nettles, that horrible clingy stuff.
Fortunately, my neighbour came to save me. "Come with me." So I went, and we visited two places where he tried to persuade them to risk their precious agricultural machinery on my estate. The result in both cases was an emphatic "Nem" (No!), and who can blame them, as it has come to my notice that they were (trying to) run it as a Christmas tree plantation, hence all the tree stumps. Seymour has a wonderful answer to tree stumps, but I don't know it the necessary ingredient is available. Blast, was going to look up the chemical formula but forgot. Anybody out there, text it to me - sodium chlorate. Great fun. When I were a lad I used to send the dustbin lid down the street with sodium chlorate and sugar. Good job that was before I saw Professor Shaw's lecture that showed how to turn it into a high explosive properly. A-propos of which, what is a 'low' explosive, and what's the difference between a high explosive and any other sort. Answers by e-mail, please (Oh, and by the way I do know the answer!). I got back on the estate and got into the nasty bit with the strimmer. Hard going for the strimmer. OK for me - working space a bit limited, but OK. I was about five metres from my goal for the morning when my neighbour caught me again. He introduced a young man and indicated that he would work for me cutting down all the rubbish. A deal was negotiated. Done, sorted...
Hmmmm!
Or not???
I was having lunch (apple, aero bar, pipe, coffee) when there was a tap at the door and a call. I answered to door to find Frank (10th April 2008) with another guy who I knew vaguely by sight from the pub. "I've brought this guy to see you who will do your garden." By chance the young man with whom I had done the deal happened to pass by. Words passed between the new guy and the young man. (It's actually very difficult to tell the difference between two Hungarians having an argument and two Hungarians speaking loudly to one another.) I know not what went between them, but the end result was that the young man agreed that the newcomer would do the job. I feel kinda guilty about it, as I had no say in the matter, and me and the young man had done a deal.
Someone told me that if I moved into a Hungarian village I would need nerves of steel - beginning to understand why!!
The young man did admit that the newcomer was actually the man for the job, as have a number of other people since. He's going to be here at 5am - hope he doesn't expect me to be up!!
Oh, and by-the-by the snakes are apparently harmless, except for the Hungarian meadow viper, which is just very painful, unless you are allegic to it. I do like my snakes and lizards and frogs. And 'my' swallows are still here, and I think, busy building a nest. There are about half a dozen under the eaves of the shop - must remember to get a picture.
Greig, Holst, John Williams (Schindlers List)
Up at 6am, just to find out whether my gardener arrived. Was only just light. Na, I exaggerate a bit, the sun was just about over the horizon. Opened the door and looked up the yard and I can see a blue jacket hanging from a branch. Yep, the gardener is here. Not only is he here, but I can barely see him in the distance. Simply cannot believe the amount of stuff he has shifted. I bet that
my
compost heap is going to be bigger than yours! Went to the village shop, 6:40 am. It was packed. I got my three or four bits, and I was about fifth in line to pay! And there was a queue behind me! Hmmm, the real magyar lifestyle becomes more apparent. So much for us decadent Westerners!
Started stacking, well basically hay, and soon had a stack five feet high. By the time it's all raked in, try thirty feet high. Soon got fed up with that, and returned to clearing next doors fence. Stuck at that for about three hours apart from a couple of breaks - managed about thirty metres. Nightmare! It is supposed to be a row of vines, which both next doors have. Planted about three feet in from the boundary, so you can easily get either side. The whole lot has either collapsed on top of next doors fence and entwined itself to his fence, or, similarly, has invaded various bushes/trees on the boundary. Not good. It gets worse (later).
By the way, Seymour reckons that my walnut trees should be at their peak for turning into fine hand crafted furniture in about three hundred years. And the conifers have simply just got to go.
Gardener knocked it on the head about half past ten. In five and a half yours he has scythed down well over half what has to be cleared - wow. He'll be back tomorrow to knock off the rest. Same time - 5am! I kept at it until about 2pm, by which time
I'd
had enough. Showered, changed, along to the pub - what should be on telly? The F.A. Cup Final! Ended up staying quite long, and getting involved in lots of little snippets of magyarul, as some of the youngsters have been getting quite curious about why I am in Halogy.
Karl Jenkins.
Up at six again. A very grey day with a hint of drizzle. Same as yesterday - clearing the fence. I knocked off for a coffee about nine, and then went back up the yard. I immediately turned round, and as quick as I could went for the camera. What I was witnessing was, for me, a bit of pure magic. There was a stork in the garden decimating my livestock! It caught a snake as I was watching. I took lots of shots - as usual, only two are worth a light: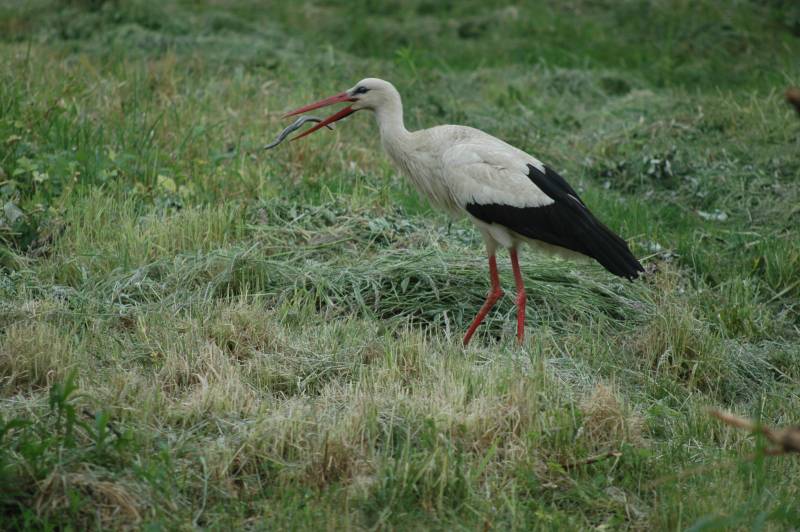 The stork tosses the snake in the air...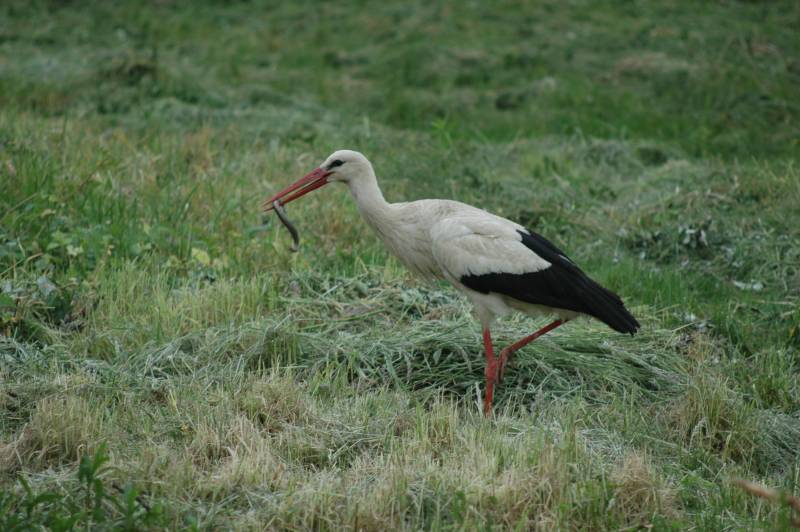 ...and catches it again.
I was about fifteen metres away - it was quite unconcerned by my presence. I might just have to find an old cart wheel to put on top of one of my disused chimneys to encourage them to nest. Speaking of which, the finches are still lurking about! I have seen them a couple of times over the last two mornings, apparently still 'sussing out' the Summer Kitchen. I had to discourage a cat out of there yesterday. The swallows are definitely there, I see them in and out all day. Unfortunately, if plans go according to plan (excuse pun!) the Summer Kitchen will be out of bounds to wildlife from next spring.
I'm getting into the tough going with the neighbour's fence at No. 68. I reckon that I have got three more vines to disentangle and they are seriously bad. There are loads of stem suckers that have taken root on account of the whole lot falling on the floor. Where there were posts they have all fallen over, with the exception of one, which for some reason didn't actually have a vine attached. I don't know how many vines I said I had, but it's a lot more than that! I must find out what happens with the grapes. There are no signs of winemaking activities here, and I am wondering if there is some sort of co-operative who will take the grapes and return a percentage as wine, or just pay. Same with the peaches, and pears!
Carpenters & Sting/Police. I think I managed to upset the locals
again
. Village politics, factions. Like walking on egg shells!
Obviously rained overnight as the ground, grass, etc. was all very wet and it was very misty, almost a fog. Out there before seven, again. Still into the one horrendous patch of fence. Hard going, and it got harder as the sun burned off the mist. I'm counting my progress by the concrete fence posts. Three-quarters of a one from 7am until just gone eleven, when I was relieved by a call from the bottom of the garden. It was the 'vas' girls. I had told them over their gate that I had 'vas'. I showed them the 'vas' and the one of them was obviously a bit impressed, because she actually said, in Hungarian "Happy, happy, happy!". It was the same in English! I said they could take it this afternoon, and off they went.
I went back to the soul destroying patch of fence. Oh, for a slasher! (English hedge knife.) And it was getting hot, and I was scratched to pieces!! Thankfully, another call came. It was one of the girls, returned with her husband/bloke - whatever. It was the young man who got 'bounced' off the gardening job. I thought he was associated with that family, and I was pleased that I could be in a position to compensate. I showed him the 'vas' and a load more besides. We communicated by writing on the door - times when, and when not. I returned once again to my soul destroying task, but within about twenty minutes I was, basically, err... I was going to say something that begins with'f' and ends with 'd' and is six letters long, but I'll say exhausted instead in deference to my younger readers. Went back to the house for lunch.
Just had my home-baked bun when there was a shout and a knock at the door. It was the young man with a hacksaw. I thought to myself "The Best of British". I didn't see him for about twenty minutes, and the next time it was him asking if he could plug in an extension for an angle grinder. That was a bit more like it.
I did take the opportunity before I let then loose to check there was no live water supply to what they were ripping out. There wasn't! But I did discover that my outhouse roof in a spot I haven't looked at before has collapsed. Ah well! Saves applying for a demolishion permit :)
Next thing, there were two of them. Next thing, three. I wandered out to go back up the yard to do something a bit more gentle, and blow me down, the three of them were just dragging the furnace (23rd April 2008) out
complete
. Anyway, they went off very happy.
After that, some domestics, then wandered up the pub hoping to sort out an issue. Unlucky this time. While I was in the pub the young man came in for cigarettes, and when he saw me there writing up my diary, he bought me a bottle. He must be well happy. Wait until he sees the next lot!
Went home, and by now it was blowing hard from the East, and obviously going to rain. My washing was nowhere near dry. Leave it out - nice soft water rinse! It was cool enough for me to go back and attack the nightmare bit for half an hour or so. I became aware of voices, but it took me a while to track them down. The old lady next door and another who I had never seen before were hiding behind the bits of bush on the other side of the garden watching me and obviously discussing what I was doing. Ah, well, Hungarian village politics! Hehe.
Nobody got near my little brain teaser from 26th April - I'll give you a couple more days.
Miscellaneous. You would't believe what I have in Miscellaneous.
A wet,cool start. Nonetheless I had to have a go at the fence between me and the other neighbour. That's the one that I attacked in a fury. (The border, that is, not the neighbour!) It was easy going, and in the first hour I must have cleared about fifteen metres. They have obviously been doing a bit of 'self-help' and leaning over the fence and keeping it clear as much as they could. After that I hit a patch of tough going. Once again it was where the post holding up the vine had collapsed onto next door's fence. Hacked my way through and jury-rigged the post upright with a spare bit of clothes line. That sorted the morning out.
Took a different local on to finish off that side. Waste of space! He won't be getting any more work off me!
Did a small Tescos in the afternoon as I am expecting guests from the UK tomorrow :) A nice old lady pointed out to me that I had missed an item in the trolley. Like I would shoplift for a 79Ft item! I thanked her anyway and passed the item back so it was checked out. I met her again outside. It was somewhat rainy. I was going to say pissing down, but I won't, in deference to my younger readers. We exchanged pleasantries as best as I am able. and she went on her way. I packed the rucksack and waited until the rain eased to a monsoon downpour. I set off for the one kilometer hike back into Körmend and blow me down, the little old lady was at the bus stop opposite Tescos under her umbrella. She said something along the lines of "Get the bus", so I joined her under the umbrella, me standing one step down as she was a little old lady. The bus arrived, and when I got on the driver was the regular one that drives the 12:52 bus into Körmend. It was sort of a case of "I'm not going to Halogy, you know". "Yes, I know. Körmend please.". So I went to the bus station, and the nice old lady even made sure that I knew where to get the bus to Halogy. Same old, same old!
Outside Tescos there is an Opel Astra with the back end on ramps, advertising a local dealership.
Three million, seven hundred and fifty thousand Forints!
I could buy a house (very basic - much more basic than mine) with an acre of land in the next village to Halogy for about half that. Absurd, absurd!
Time has passed - I am writing this on 23rd May - cannot remember to what I was listening.
UK visitors arrive today! Early evening. So much to do. Bright and early I went to open the one working shutter (external roller shutters) and
bang
the strap broke and it crashed back shut. Bugger!! The weather was, according to the lady in the Co-op shop in the village, good. That is to say, it was wet and cool, raining on and off. Apparently if it rains every day in May that is the best possible weather. My Hungarian ID card arrived by registered mail :)
Sorted out some village politics and headed off for Körmend. Met my guests off the train, more or less on time. Of course, the train times don't tie up with the bus times, so we were in Körmend until the last bus. I took them for a meal, and when we walked past the bus stop I checked the timetable - yep 22:40 last bus. We had a good meal, and lingered quite long in the hotel - the same one I stayed at twice. We asked for a taxi - nothing doing. That's why we hung around. Had at bit walk round and were back at the bus stop in loads of time.
No bus! There were two buses that arrived simultaneously. One for Döröske (opposite direction) and one for Őriszentpéter - nowhere near where we wanted to go. No Halogy bus! Hung around a while - no bus. We were just getting getting into panic mode at the prospect of a ten kilometer walk home - them having journeyed from the UK that day, when I happened to see this car coming round the square with a Taxi sign on the top. So I flagged him down. He pulled into the bus stop, stopped and wound down the passenger window. I told him in my best magyarul that we wanted to go to Halogy, and he looked a bit blank. Well maybe my magyarul isn't up to that much yet then! I flashed my newly acquired ID card at him, with the address, and he still looked blank, but he got out the car and put the bags in the back and we all got in. It turns out that he was a Budapest taxi driver on his way home having taken a fare to Vienna! Nice car though - VW. Not that I approve of cars, you understand. Whatever, we got back to Halogy somewhat drained at about 11:15pm.
Up early and anxious to make a start. Two sleepy-heads in the building, so I put on the hob nail boots and stomped about a bit on the tile floors. That did it! Quick breakfast and we formed a working party to blitz what needed to be done. The village jungle telegraph must have been working overtime! Worked all morning. The old lady in the cottage at the top of the land, who I had never even met, passed over some strawberries for us. How does she do that? Mine are still little green dots.The other neighbour arrived with an electric circular saw bench. I now have about a tenth of my woodshed filled with fuel - looks like quite a big heap to me. He returned soon after with his mower, and mowed the tarmac yard. (Seriously!) We had a quick lunch and into Körmend on the bus to do a Tescos shop to last until their return to the UK. Called in the pub on the way home for a drink. I think the village telegraph went into meltdown then :)
We all went home and knocked off a bit more work, then ate. Went back to the pub where the locals were even more intrigued. And friendly!
A cool, wet start to the day, but we continued as before. The neighbour continued to assist and had to be actively discouraged from scything down my 'wilderness area'! About eleven in the morning I made an absolutely
horrifying
discovery. Colorado beetle on the potatoes. It's notifiable in the UK, but not, apparently, here. Of course I had never seen one 'in the flesh', as it were. But it was unmistakable. I showed the neighbour. "Not good. It will eat the potato plants".
Gutted! Once again I am confronted with the choice of petro-chemical dependance, or a grindingly hard and boring daily task. Either spray, or go round every single plant, every single day, picking off every single leaf with eggs on, and every single beetle, then destroying them. The word locally is that this is the result of an early form of biological warfare from World War Two, when the Americans dropped them all over the countryside to decimate the potato crop and starve their enemy. Of course I have no way of confirming or denying that. But if it is true, it just shows that the consequences of an action of that sort can be felt for many generations.
In the afternoon I took my visitors to meet the English contingent. Which was very pleasant. I entered a contract to take delivery of a brand new kitten!! (Grey tabby, pictures later). When the topics turned to business (none of mine) I excused myself, and as the way home from there is right by the pub I called in for one. Or two.
When I got home I had a quick review of where we were at, and my neighbour called round. He
really
wanted to show me something. The something was a two-and-a-half metre gap in my hedge/fence that borders on the road at the top of the property. Not good. The deer could come in and eat my peas!! We were just about to go back to the house when my visitors appeared through the hole in the hedge/fence. One was in a panic - infested with a tick. They had tried to get it out elsewhere - unsuccessfully. The panic turned to even greater panic when my neighbour said "Ambulancia". It turns out that "Ambulancia" means the casualty department - not ambulance!
Visitor was taken next door, where surgery was performed with a blunt needle. Some discussions later it emerged that if, after a couple of days, there was a red ring visible around the entry point of the tick,
then
panic.
I'm seriously playing catch-up here. I must make mental note that I have to make sure that any visitors make sure that
I
update the blog.
It had obviously rained overnight as the yard was wet and the water butt overflowing. We were up early to continue destroying fences and hedges. Ah well, keep the neighbours happy! They all got English cakes :)
No sign of a red ring around my visitor's home brew surgery, so that's good. We did about four hours work, but by then it was just too hot to carry on. One of my visitors suggested going to see a property for sale in the next village. OK. They walked, I cycled. We had the same sort of map problems as I had when I got lost in the forest. "But there should be a track here". And this was in open farmland.
We backtracked, did a detour and found the property, only to be met with your typical Hungarian dog - woof, woof. I have come to the conclusion that nearly all of them are all mouth and trousers. (Where does that expression come from?) The next door neighbour was there cutting roses and she spoke to us with some emotion - we think that it was her friend that lived there, but most of what she said was well beyond my grasp at this stage. Na, was it ****ox - it was all well beyond my grasp at this stage.
I lost my lens cap :( When I find it I'll post the pictures that I took.
We left the property over a rickety-rackety wooden bridge that I would not like to take a Range Rover over, and headed back for Halogy. Pub, home, eat, shower, pub. Seems like a good itinerary to me! It was my visitors' last night in Halogy, and the locals knew that. They were all very friendly.
Elgar - Severn Suite. Probably the first brass band test piece commissioned to be written by a major composer. It vexes me when I hear the orchestral version. It
wasn't
written for orchestra. By the way, having no correct entries nobody wins the prize for my little brain teaser. Frank Flour is of course Franz Liszt, and his mate Les (clue) is of course "Les Preludes". The other one was "in no particular order". Yes it was! Reading from left to right and down the columns it was (barring unseen mistakes) in exact alphabetical order.
Do you remember for what this date in history is famous?
No, neither do I.
I made sure that my visitors were up in time to get the bus to Körmend (08:27 on a Sunday, and there are only two buses). I cycled quite hard into Körmend, intending to beat the bus. Nearly did - I was tucked in behind it when we left the main road and turned down the Körmend approach road, about one kilometer out of Körmend. We went to the Halascsarda and had coffee. The locals were there having white wine Spritzers for breakfast - or I suppose to them it would be 'elevenses'. We walked down to the station in nice time, but then it all turned into a bit of a rush, as one of my visitors had gone to the 'loo' when the train arrived. Hasty goodbyes.
I have to confess to feeling a bit down and empty when they departed. It seemed a long and lonely cycle ride home. And it also felt strange to return to an empty house.
I did a bit of clearing up in the garden, and one of my neighbours gave me a bag of cherries. I have to say that cheered me up considerable. Nice to know that my efforts are being appreciated. Bob Dylan. No, I don't know why either. Apologies for shortness of entry.
Sorry folks - nothing worth writing about, apart from the fact that it was hot!!
Late up! 07:00! Quick breakfast and out. Spent the morning clearing up again. I had my family send me John McInroe-type seat bands. I think I wrote elsewhere about the fact that if it gets on the specs. it's not good. Once the sun kicks in, which is about 9am, they last about an hour. And they are a nightmare to get dry again. Rinse out, peg out - still damp next day.
I have not the slightest idea why, but after one fairly strenuous session when I came indoors for a coffe and just to cool down a bit, I took my pulse. This was about a minute after I came in. Sixty! I'll settle for that. When I was at the Uni., my pulse rate last thing at night was about ninety. Be good to get it down to fifty, but I doubt it at my age.
I knocked it on the head at about 11:45 - just too hot again. Just got indoors when Knock-knock - Mr. ADSL man arrived :) :) But they might tell you that they are going to arrive. He was well briefed - "You are dealing with a Mad Englishman". He made the phone work with a few incantations. Well, there is a dial tone. Not a lot else. He muttered some more incantations at me and went away. By that, the neighbour arrived - with fireman. I know he is the fireman cos he said "Fireman". They walked all over discussing I know not what. Then they went away. Next up, the wife of the English contingent arrived to tell me that the neighbour wanted the fireman to be in charge of setting fire to all my land. Well, he knows what he can do!! I (and others) have spent a bit over a week and more than enough money mowing the meadow and pulling all the rubbish off the fences. Of course there is a fair amount of stuff lying about. If the neighbour thinks that I want a clone of their property then the neighbour is very much mistaken.
Saw lots of lizards today. When I have a bit more time I will make one pose for you. These were cheeky ones that just sat and watched me until I got within about half a metre - then they disappeared a bit quick.
With all the appearances and disappearances I only just made the bus to Körmend. I needed cash and a few bits and bobs (sorry, if you are from Manchester, bits and bats). (Strange lot) I was thinking to connect my D-Link router, so I got five metres of CAT5. I had the thought that I would also need an ADSL microfilter, but when I went back to the T-Com shop, I found myself on the mobile phone once again - "Don't buy anything. The T-Com man came back with the stuff for your Internet connection but you were not there. He will come back on Thursday".
I decided also that, in view of the flakiness of mobile phone communications with the UK, I would get a Hungarian mobile phone. First I wanted a Westel SIM card. Went in a likely looking shop, but no. He directed me to the T-Com shop where I had just been. Back I went. The lady's face dropped when I walked back in, but was soon OK when I made it clear that I wanted a SIM card. Rigmarole, or what!! "Passport?" "No, I don't have my passport. I have Hungarian ID card, Hungarian Residency card, Hungarian Tax card and UK Driving Licence!" There was a lot of humming and harring, but eventually they decided that my ID was good, and I duely got sold a SIM card. Next to buy a mobile phone. I had already spotted the shop that sold reasonably cheap Nokias free of connection (any network). So that is where I went. Did the usual "I'm English. I only speak a little Hungarian" bit. To my amazement the lady in the shop spoke fluent English, so from there it was easy. I complimented her on her English, and said "I try!". It was much better than that! I actually got a different model than the one I had spotted in the window - about 4,000 Forints cheaper, which was good. The lady was good enough to change it to English settings and that was that.
I had my first bill - water - so they do know I'm here. 1440 Forints (about four pounds fifty - but that does not take into account the twenty cubic metres that got involved in the cellar flooding incident!). I read the meter myself, and I reckon on about a pound a week. A cubic metre (1000 litres) is about one pound fifty! And delicious, cold and pure it is as my visitors can tell you. There is no 'Montezumas Revenge' for drinking the water here.
Fauré Requiem. Maybe it was the reference to "pegging out". And some Aaron Copland. Late, and all my alarms are set for 5am!!
Didn't get up at quite 5am, but I was in the shop for milk at 5:50. Nice and fresh and damp - ideal for a garden fire in Hungary. The whole of the land is as dry as a tinderbox, and my neighbours visit with the fireman has made me acutely aware of that. Nevertheless, I have planned my fire. There is no loose stuff lying about - I raked it all up. And I chose a spot where there were only old nettle stems anyway. Being ultra-cautious I poured a couple of buckets of water around the circumference of where I was going to have my fire. Being ultra-ultra-cautious I had water on hand, and a couple of brooms to beat out flames if it all went wrong. So I lit my fire. It was a tiny pathetic little fire - about one metre high and one metre in circumference. Did it go! It's not a bit like your typical English garden bonfire. It just went whoosh. Anyway I kept feeding it little bits and big bits. After about fifteen minutes there was a shout, and my neighbour was at his fence. "Saturday!", "No, I was told Wednesday". Loads of stuff that I didn't understand and then "Saturday! I will ring (a certain person)". "OK, (that certain person) said I could have a fire this morning". "I will ring (that person)". "OK". It has come back to me via another source that neighbour did in fact ring certain person - nothing happened my end.
It was a pathetic little fire anyway. I let it go out by 10am. The resulting pile of ash is less than two metres across. A number of other villagers played right into my hand by lighting their own fires, including the old lady next door. There will be many more 6am fires! Little by little all the rubbish will get burned, and also all the compostable stuff will go onto one of two bloody great heaps.
The whole thing quite spoilt my day! I have done very little work in and around for the last fortnight other than to do stuff (with some hired, and some visitor help) to keep the neighbours and the village happy. Certain people think that I can single-handedly turn a derelict and run down property (I still can't find out actually how long it has been unoccupied, but the most up-to-date thing in the house, a local yellow pages type thing is 2002) from a silk purse into a pigs ear in about a week!!
What a complete and utter change of lifestyle over the last couple of weeks. I expected to come here and get up at eight or nine o'clock. Well, they might in the towns and cities, but not here. It is much more like a Spanish lifestyle. Get up when it gets light. Siesta in the afternoon, and maybe a bit of gentle work in the early evening. It's actually very slightly north of Switzerland, and quite a bit north of Spain. Whatever! About 6:45 I started clearing the destruction and devastation right at the top of the plot. I had been going for about half an hour when this old geezer appeared. I had never seen him before. I managed to establish that he is the husband of the lady that first gave my visitors the strawberries. In other words my next door neighbour at the top of the plot. We communicated as best we could. He showed me a bit of stuff that has to be sorted. And then he indicated my rake (my homemade repair of whenever, which is rapidly falling to pieces. He indicated that it was not good and disappeared, to come back with what I can only say is the Hungarian version of a pitchfork. It has four tines, unlike the British one, but they are slender and delicate. The overriding factor with the local tools is their lightness. As he left me he said just two words that cheered me up and brought the whole episode of the pressure of the last two weeks into perspective - "Jó munka" (Good work).
I worked on until late morning, when I was relieved by a shout from far away - down by the house, some geezer waving his arms and calling. When I got there, it was Mr. T-Com come to sort out my ADSL. Which he did. Within minutes I was on-line. Yippee! AND it worked in Linux (so long as I have a wired Ethernet connection). E-mails. Downloaded top side of two hundred and fifty e-mails. Needed to reply. Nothing doing. My Hungarian e-mail address worked fine, and I could download e-mails to this domain. Could I send an e-mail? No, I could not. I tried all the passwords. I tried "sendmail". Nothing doing at all!
Meanwhile, my acquired Hungarian friend appeared, to fix the roller shutters. So I was busy computering, and he was busy banging about and rattling the shutters. Eventually all was fixed except that the blind didn't go down :( Ah well, a little gentle work with a sledgehammer and some WD40 should sort that.
Went to the pub, and then home (of course). Praise Be! Sending e-mails worked!!
Up early again to a fine sunny day. Was in the shop at 6:15am, and out working by 7! It has been noticed. It has come back to me via a source that people in the village have taken notice of my life-style change. I think with approval :)
Continued with the work of clearing up. It is quite hard because of the state of the ground, tussocks of grass, tree stumps, etc. all combine to make it so. I can only console myself with the fact that, as the place gets knocked into shape, this mind-numbingly boring, back breaking work will diminish and get easier. The really big problem is the tree stumps. You can't see them in the overgrowth, and they make it impossible to put machinery on the ground. It has even been suggested that I hire a bulldozer for a day to clear the lot, but I think that is going a bit far!
A couple of pictures to keep you happy:
| | |
| --- | --- |
| I had another one of the commemorative 500Ft. notes, so I decided to share it with you. | |
| | And here is me with just one of my compost heaps. I have got six like that! The building in the background is the neighbour's house at the top end of the plot. |
I put a time limit on clearing the land, as I wanted to do some planting out of my stuff, otherwise I am in danger of losing the lot! I knocked it on the head at 10:30, then spent three quarters of an hour digging my patch of salad and herb garden, and half an hour planting out stuff that really should have been in the ground about three weeks ago.
A trip to Körmend was required in the afternoon, so a quick shower, and catch the bus. I had a very successful hour and a half, in which I:
Got a query about the Hungarian phone answered
Got some cash
Managed (with the help of two of the bank girls and my bit of magyarul) to apply for a VISA Classic card, and got them to change my incorrect address to the correct one
Got some tobacco from a shop I had not been in before
Got a petrol can (yuk!!) and a watering can from the gardening shop. I had a look at plant pots too. They have lovely old fashioned little terracotta plant pots - equivalent of eight pence each
Got some more shutter strap from the hardware shop. Twenty four pence a metre! Now I have seen how it is done, I'm quite capable of repairing the other one myself.
The rest of the day was pub, home, Internet (still catching up on e-mails), pub. A very successful day!
Didn't listen to anything. Too busy frantically trying to get ev erything up to date!
Well, somewhat of a day of mixed fortunes and some excitement of the wrong sort!!
It was another fine, sunny, hot day. I was out early, but not quite as early as I had hoped. It being Saturday, I am allowed to light a fire. As before, all the precautions were taken. Wet round the fire area, not build too big a fire at once. Lit the fire at 7am and was steadily working my way through the debris when, at 8am, my hired help appeared. He proceeded to load great armfuls and stacks of stuff onto the fire. "It's OK. That's just a little fire" Ah well! By the end of the morning we had cleared great swathes of the ground of debris, and when we knocked it on the head there was, I suppose, about a quarter of the area left to clear, and all the bad bits had gone. The fire area was now about four metres by three, and had a good foot of wood ash on it. Spread it on the compost heaps I am told.
After lunch I decided to cycle to Körmend. It was plenty hot enough, but I needed cash, petrol (yuk!!) and a few bits and pieces. All uneventful, except that the cash machine at OTP Bank was out of order. Where to get cash? I suddenly remembered that there is an OTP cash point inside Tescos, so I cycled out there and killed all three birds with one stone. Had a steady cycle home in the face of what had become a stiffish breeze.
I was literally getting off the bike by my gate when I heard the nee-nah, nee-nah, nee-nah of an emergency services vehicle, quite close by, but it didn't appear. Lots of people came to their gates to see what was happening. I pushed the bike into the yard, just in time to see through the smoke the fire engine passing along the lane at the top of the plot. Only it didn't pass. It stopped. Right by the hole in the fence at the top. With a horrible dawning of realisation it suddenly became clear that it was my place that was on fire. I noticed the hired help's bike propped up in the shade, and the first thought that came to me was that he had lit the fire at the top of the land, and gone to the pub for a quick one. I walked up the field and by the time I got there the fire was virtually out. I was now minus one bonfire and two compost heaps. Fortunately, the hired help was there, and he admitted it had simply got away from him. Apparently he will now be banned from lighting any more garden fires for a year! And (I think) fined. Pictures of the aftermath for your delectation:
This is taken from approximately the same position as the one of me yesterday. Notice the absence of compost heap and bonfire.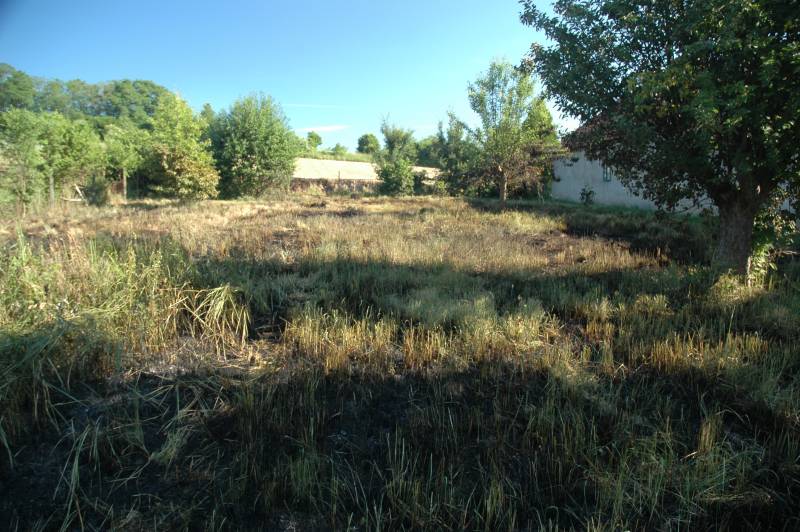 Another view of the damage. It is a very sick little cherry tree now, with all its leaves blackened for about four feet.
Of course, half the village came to watch, and the other half heard about it on the grape vine within about thirty seconds. It's a small village. I took the hired help to the pub. He was in a bit of a state, poor chap, and needed a restorative. So did I. We, well actually, mainly him, came in for a fair amount of ribbing from the locals, and in best Hungarian tradition the whole event was regarded with quite a degree of amusement. The Hungarians are very much like us in terms of the sense of humour. A number of people had said to him "Jó munka" (Good work). And in many ways it is. I has cleared probably about four hundred square metres of the land so that I can identify on it all the tree stumps I can also get rid of the remains of grass tussocks - some of them are nearly a foot high, so that will give you an indication of how long it must be since anything was done with the place. I'll probably give it a good rake over and root out any long term weeds and invest in another couple of packets of grass seed. As they say, it's an ill wind!!
We had quite a session in the pub!