March 2008
Left Bournemouth in a flurry of emotional goodbyes and a certain amount of organisational chaos, but got all the important bits. Managed to get all the important needed-on-arrival-stuff in one case and one backpack. The case must have weighed 40kgs plus! Fortunately the backpack had all the light bulky stuff in and the suitcase had wheels.
The journey to Paris was uneventful. I suppose that Eurostar is a bit exiting - well it goes fast, but otherwise much like any other train. Once in Paris a pleasant German bloke gave me directions to Paris Est and we had a chat. Surprising how often smoking a pipe gets you into conversation with people. It ususally starts "My dad/grandad/uncle used to smoke a pipe...".
The journey from Paris to Munich overnight was fairly horrid. No space for the case, and not much more for the people. It was also the most expensive leg of the whole journey. Hmmmm! Most expensive, worst accommodation. How does that work then?
Journey continues. Munich to Salzburg on a train that was actually destined for Budapest, but didn't go anywhere near where I needed to be. Salzburg to Graz on what was a well-appointed and comfortable train. Pity about the menopausal Austrian women passengers. Changed at Graz and got onto what I recognised as being Hungarian rolling stock. The train was bound for Szombathely and stops in Körmend, my destination for the evening. It was busy, but not overcrowded, when we left Graz. As we went more and more people got off until by the time we reached Szentgotthard, the border with Hungary, I was the only one in the coach. And we sat, and sat, and sat. I'm thinking to myself 'Should I be going through passport control, or what?'. I knew it was the Szombathely train from the anouncement. Anyway, after about 20 mins it set off. I never did get my passport checked entering Hungary. Another nice man told me how many stops it was to Körmend, which was a good job as by then it was dark. (It's surprising with such a small difference of latitude how quickly darkness falls here). I laboured my way to the hotel with my dead-weight suitcase, and my booking was fine - they were expecting me. All very friendly, it was like a little homecoming in itself. I spoke to Franz, the estate agent, and we arranged to meet at my hotel at 8am the next day. Went to bed absolutely knackered.
He's an early riser, is Franz. I was just having breakfast at 7.30am when, tap-tap on my shoulder. Must admit I was pleased to see him. Up until that point there was always that "what's going to go wrong" feeling. We set off at 7:45 and we were at the cottage by 8am. Nothing much wrong - just in the same (fairly run-down) state as when I saw it. We checked out the electrics, which worked. One less hurdle. Franz also told me how to turn the water on. We left it off. I dumped my stuff and we left to go back to Körmend, but not before I'd noticed that, far from being cleared, the place had been left furnished. Not to my taste, but it solves an immediate problem. I mentioned needing a mountain bike, and by 9am we'd visited a bike shop and a deal was done, so that was transport sorted. I took my leave of Franz with great thanks. He offered his future advice and assistance if needed. Nice man!
It was before 10am, and I'd already achieved much of what I expected to achieve that day. Next off, OTP Bank to find out what happened to my forms. That was fun. There was a queuing system, and it took about 20 mins to get to my turn. She was a
very
nice young lady, but unfortunately without a word of English, so we were getting nowhere fast. Another customer intervened, a mature lady who did speak English, so explanations were rapidly made. After a degree of consultation they decided they had no idea what happened to my forms so could I come back tomorrow? It was all good fun though. It was just so ... so ... good natured.
The rest of the day turned out to be somewhat anticlimactic. I picked the bike up and it was fine. A good solid mountain bike, with mudguards and lots of gears. I was supposed to go and meet the English contingent in Halogy, but that fell through. So I went to Tescos instead.
Packed my backpack and paid the hotel up, then back to OTP Bank to find out what the crack was. The same gorgeous young lady saw me walk through the door, and gestured me straight to her counter. I'll say one thing, and that is that once they have sussed exactly what the problem is things happen. As it turned out it had also cost me about £100; my mission to the Hungarian Embassy was a waste of time. Nobody knew what had happened to the forms from there. Anyway, she was well briefed this time and I simply signed another set of forms and various other bits of paper and I came away from there in about 10 minutes with the IBAN number of my account and the SWIFT-BIC number of the branch, so I can at least get on with transferring money from the UK.
By just after 9 I'd returned to the hotel, retrieved backpack and bike and set off into the wide blue yonder. It took about 40 mins to cycle to Halogy, longer than expected, but I can put that down to a) not being fit enough (yet) and b) a backpack that must have weighed over 50 lbs. Anyway it was a fine spring morning and I was not in a particular rush. I got to the cottage and had literally just pushed the bike into the yard when white van man pulled up outside with my stuff from the UK - now that's what I call Serendipity! Spent the rest of the day unpacking, exploring and changing the brakes over on the bike. Front brake on the left - I ask you? Guaranteed to have me sprawled in the gravel.

It's a bit chilly here still in the evenings, so I found some wood and got the huge stove started. Apparently the crack is that they make a huge fire in it in the morning, and another huge fire early in the evening, and just let them burn out. The thing gets hot and stays hot - just like a storage heater!

I know one thing - this project won't be finished this year. It will barely be started.
A bit chilly? A BIT CHILLY? Well the sleeping bag I brought with me simply wasn't man enough for the job, so I think that tonight it will be Plan Z. On top of that the bed that I thought was normal size turned out to be 5' 10" from end to end, including the wood. End result was that I had a lousy night, and eventually got up at 7:30 feeling like shit! On top of that it was a horrible grey, cold, windy day, so that definitely put the kybosh on my plan to cycle in to Körmend and do some stuff and buy some essentials. I felt like knocking the whole thing on the head. The enormity of what I am tackling here in the cottage got to me. There isn't a single thing in here that works as it should (apart from the cold water). Taken as a whole it seemed like a Herculean task.
I consoled myself by going to the shop and buying some milk. With a successful outcome, I felt a bit better about everything; after all this is a long term project and if I can constrain myself to doing an odd thing each day I'll get there in the end. Todays project was to get the shutter working on one of the windows, which it had refused to do. Anyway that worked and that made me feel better still. The weather improved a bit in the afternoon, but it is still very cold compared to what it should be by now.
I met the English contingent this afternoon. He is certainly in the know with village life. I don't think that he will be much involved with my project - we are looking at things in a totally different light.
Right, here comes Plan Z - I won't be cold tonight! After that I'll start to make some inroads into learning the language, and after that I'm going for a beer or three.
Plan Z worked!! I moved my sleeping arragements into the big room with the stove, and fell back to air-bed and the sleeping bag. Much, much better. There was still warmth in the room when I got up this morning, and, apart from the constraints of a 'coffin' shaped sleeping bag, I didn't have a bad night.
I decided I really did need to go into Körmend and do some stuff. As soon as I went outside with the pushbike I realised how cold it was. It was an overcast day - no wind to speak of, but it can't have been that far above freezing. I went straight back in the house and got my biker gloves and set off. God, I'm unfit. There's a short, sharp climb out of the village - maybe 100 feet. I'll know when I'm getting back in shape because it won't beat me!
By the time I got into Körmend my hands were so cold that I called back into the hotel for a coffee. (It is quite literally the first building in Körmend that you get to coming from Halogy). They were a bit surprised to see me, but I was well received. Having warmed up I set off on the main mission of the day. A visit to the T-Com shop.
I happen to know that they had been warned that I was coming, so I half expected to see the lights go off and the closed sign appear. "Oh, no! Here comes the mad Englishman. Hide. Hide quick!" Of course it was not a bit like that. I waited my turn in the queue behind some random bloke who couldn't make his mind up between this mobile and that. A male member of staff turned up and I kind-of explained. "ADSL" actually works everywhere I think. He indicated that I had wait for the lady that was serving the non-commital customer. Eventually I got to see her, and, by fits and starts, she got the gist of what I was after. I came out of there at about 12:30 (they close at 12!!) with contract signed, and a brand new e-mail address - tubaplayer@t-online.hu. Please don't use it - stick to the one that I've had for ten years. I was gob-smacked at the extent to which she used Ctl-C and Ctl-V - I've never seen anybody behind a counter do that before :)
It comes back to the same old, same old that I have found from the first day that I got here in September. The Magyar are such an obliging race. It happened yesterday too. The youngest son of the Englishman knocked on my door at about 5pm. "Did you know you have mail in your letter box?" (The letter boxes are on the outside gate). "Oh, and by the way, the parcel man came and you were out. He left them at the yellow house over the road." The man from the yellow house over the road came along shortly after, and shouted some stuff at me, so I followed him and he helped me carry the rest of my life home. It works, you know - if these bloody Johnny foreigners don't understand, just shout louder at them!

On the way back from Körmend I had one of those "Oh bollox!!" moments. Forgot to buy seed potatoes.
Said boxes contained my office: 2 scanners, external HDD, printer and my iRiver, which I should have had with me but left in the panic of the taxi appearing :( So, this evenings job, as you can see, was to put it all together again. I'm wondering how big the BANG will be if I try and plug it all in at once!
Horrid day. Never saw the sun all day and although it was not as cold as it has been the last few days it still was not that warm. I was just in the mood for getting my farming boots on and having a go. Had to content myself with sweeping out the house. Floor, walls and ceiling! Lots of bits of plaster dropping out, but mainly superficial. There's a bit of rendering that needs to be done fairly urgently on one corner of the house, and a whole stretch about a foot wide either side of the front door. Just lack of standard maintenance really, and nothing that I can't tackle myself - just needs to be got to before it affects the structure.
There are a couple of areas where major surgery is required. One is because they extended into an outbuilding to create the bathroom and loo. They didn't make much of a job of ensuring the waterproofing of the join, and the result will be a new bathroom ceiling. The other area is just by one of the doors. Some woodwork was replaced (with chipboard) and now that has gone rotten, and I don't much like the looks of what is at the back of it. We shall see. At least there are no cracks there.
Time for a beer, I think.
Well, what a varied day! Got up about 8am. There was no sign of sunshine, but it seemed quite bright. No wonder! It was white over with snow. A bit of a shock to the system.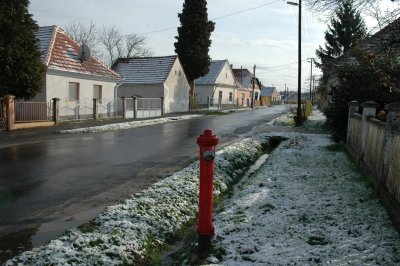 Didn't bode well for the day. However, by about 10:30 the snow was melting rapidly so I though perhaps a bit of gardening was on. I put my farming boots on top of the stove to warm and had another coffee. Sure enough within about half-an-hour the majority of the snow had gone. I started with the job that has been bugging me since day one. The small front gate into the yard didn't open enough even to get the push bike straight through. Cause: the garden had fallen in a heap at the back of the gate. Cure: shovel it back where it belongs! That took about 10 minutes.
| | |
| --- | --- |
| Time to take stock of what is up the yard, and formulate a plan of action. The first signs are not good, but I knew that already - I had seen this bit before. It's a choatic jumble of what had passed for a greenhouse, stacks of bricks, tree stumps, brambles and whatever else. Well, the next step is to actually start gardening! | |
| | I had a wander up the land, and chose a flattish piece of ground with nothing but rubbish on it to start with and with my sticks and string marked out an area about 15 x 10 metres. So that's 150 sq. m to start with, and considering that by intensive cultivation you are supposed to be able to keep yourself in fruit and veg. on 20 sq. m, I think that will do for now. |
| The whole shooting match is covered in crap - totally overgrown. This patch was no better and no worse than any other bit. It was covered with lots of non-descript sticky-up last years vegetation. I did something I had not done for probably 35 (plus) years - I scythed it down. I had forgotten how steady and pleasurable it is to use a scythe. Took me less than an hour to clear the lot. The weather had changed too - it was quite spring-like. In fact I was down to tee-shirt and the coat of many pockets - unlike the four layers I had needed first thing. | |
I would have cleared it in preparation for digging, and starting my compost heap, but the rake broke!
I made a couple of other good discoveries as well. In a tucked away spot in one of the outbuildings I found a stack of probably a couple of hundred plastic plant pots. That's one thing I won't have to buy. I also found a patch about 20 feet square of strawberry plants. Well overgrown, but that will soon be fixed.
Last job of the day was to make the double entrance doors to the cottage hallway fit. They never did close properly - just like every other bloody door and window in the place! Took me about an hour and a half, but now all that needs doing is to adjust the catch so that the one door closes properly onto the other.
Cold and miserable, miserable and cold. Too cold and windy to cycle to Körmend. To cap off a crap day the library (Internet!!!) stayed closed because someone had to take a lieu day (well, I think that is what it said).
Ha! This is a bit more like it. If spring hasn't sprung, then it feels very much like it is thinking about sprunging.
Decided to go into Körmend and see how many of my priority items I could get knocked off. First call was the Posta. The nice lady that served me simply couldn't get her head around the difference between Egyesült Királyság and Nagy-Britannia. I was not about to try and explain that in pidgin Magyarul.
Next was Tescos. I spent a long time in there really sussing stuff out, and in particular trying to get as much as possible from my high priority list. Didn't do very well really. At least I remembered the seed potatos this time but what the hell do people do here for (for instance) washing line and clothes pegs. I trawled Tescos for ages, but there were everyday items that I simply could not find. I returned to Körmend town and spent some time checking out other shops for the stuff I wanted. Again I had precious little luck. The only thing I managed to buy was a fairly meaningful hammer. I searched high and low for a gardening spade - either English or Continental style - couldn't find either. I mean, surely there has to be a shop somewhere in Körmend where they sell such a thing. I'm just not finding it yet.
It was still a nice day, so I decided to call in at the hotel and have a beer on the way home. It so happened that the England Under-21 team were on TV in the bar, so one beer became two. I don't know why I bothered - it was a crap match!
Headed for home nice and steadily. Wasn't until I got there that I realised that none of the hills had beaten me on the pushbike this time. Signs of improvement there then...
An interesting day in which a fair amount got done, and I got a fair insight into the Hungarian psyche.
| | |
| --- | --- |
| I started the day off by deciding to circumvent one of the priority items by mending the rake that broke on Monday. I guess you could say my first effort at avoiding a twenty-first century solution and using a nineteenth century solution instead. Mind you, the stainless steel pozidrive screws came in rather handy. So did the soldering iron for drilling holes, in the absence of any drilling type machinery, or bits. | |
That done, I set out to clear the stuff I had scythed down on my chosen plot of ground. I had just made a start when the next door neighbour came to the fence and introduced himself as Tibor. We sort of held a conversation (I do mean sort of!). He managed to convey that he was asking if I was going to plant vegetables, and he pointed to his neat little patch with all sorts of stuff growing in spite of the time of year. I attempted to convey that I was, and after a little more attempted communication, he went off and I returned to clearing my plot.
A minute or two later, and quite unawares of anything, I heard a petrol strimmer start, quite close by and behind me. It was only Tibor, who had arrived unannounced and started in to help clear my plot by strimming all the loose stuff. Unfortunately this revealed the presence of some tree stumps. Off went Tibor and returned with an array of tools and set to to uncover the tree stumps so that they could be extracted. I was about to attack one and Tibor stopped me. By sign language and so on, he managed to indicate that he would bring his tractor and drag them out.
As we cleared ground we found more and more. My tools were hopelessly inadequate for the procedings, as was I. At some stage Tibor's wife Marika joined us. Introductions made, she simply added to the work force and by the time we finished we had found about two dozen stumps, some huge some quite small. Tibor and Marika worked quite tirelessly, absolutely putting my efforts to shame. In interludes Marika was pointing out some of the things on my land, such as the grape vine that I didn't even know was there.
All this was done, simply because a neighbour needed help. There was no suggestion of payment or reward - a simple action, simply given. I know one thing - I WILL find a means of repaying their kindness at some stage. What a country this is! The 'West' could well take note.
Anyway, tomorrow being Friday I'll have another go at getting on the Internet. At the very least I should be able to check my e-mail and send out replies and some general stuff via Hotmail. With a bit of luck I will be able to FTP and publish this so far.
A day of triumphs and disasters.
Well, one minor and one not-quite-so-minor disasters. (Let's get them out the way first). AND I am really getting pissed off with typing ampersand-hash-three-nine-semicolon!!! All because M$ doesn't understand ampersand-apos-semicolon. Anyway, that's got bugger all to do with disasters. The minor disaster is that, because of what follows here, I once again didn't get to use the Internet in the village. The not-quite-so-minor disaster is that, due to a pipe leaking severely (unnoticed until today) I have managed to flood my veg storage cellar to a depth of about two feet. It's easily fixed and I could do it myself in about 10 mins given two pairs of Stilsons and a tapered thread stopper. There should be a stop-tap for it somewhere, but I have searched high and low and can't find one. Ah well, fill the kettle and turn the water off. I might have to call in a favour on that one. Just think, if the power becomes intermittent, that's what it will be like for everybody.
Going on to the triumphs, I had got up, showered, breakfasted and was on my second cup of coffee when I heard the PUT-PUT-PUT and watched in some disbelief as what I can only describe as a version of an elderly TVO Fordson Major tractor passed by the kitchen window. Tibor driving and Marika shouting abuse when he went in the wrong direction. (Your grandad might be able to tell you what TVO is). They saw me at the kitchen table, waved and carried on.
I downed my coffee and headed up the yard. Tibor and Marika were having a "discussion" about how to attach the chain from the tractor round the tree roots. Whatever! The first attempt saw the tractor try to burrow to the centre of the earth with its front wheels in the air. I'm not sure whether Tibor or Marika won that one. A swift reorganisation of tractor and chains saw the first stump extracted, and from then on progress was steady. It took a while, but by about 12 o'clock twenty-odd stumps had been extracted. Tibor and tractor suddenly took off without a word, but Marika stayed and pulled up odd roots that had been missed, and such. Next I knew, Tibor and tractor returned with a bloody PLOUGH hooked on - don't forget, this is for a tiny bit of my plot maybe fifteen by ten metres.
So it got well and truely ploughed - in some spots it turned up subsoil where there was a particularly deep hole from extracting stumps.

As an aside, it definitely feels like the spring weather break has happened over the last two days. It was supposed to happen between 10th and 20th, which is why I aimed to get here when I did. Unfortunately, I think I caught the last of the winter. Very different today - working in just a tee-shirt and jeans.
This little lot is the result of the extractions during the morning. Like some demented sort of landscape. Anyway, once dried out I might keep an odd bit for some decorative carving, but otherwise that will be a lot of combustible stuff for heating next winter.

It's actually very pleasant to walk out round about dusk and see the curls of white smoke from the chimneys, and to smell the wood smoke.
By the time this had all happened I had once again managed to miss the village library slot at the village hall, meaning no Internet once again. Ah, well - hmmmmm - dig that lot myself or miss the Internet for a couple more days? What do you think? As a consolation for missing the Internet I swept the place out. Must admit, I like it. Every floor is sweepable.
Did that, made myself a cup-a-soup and settled down to keeping the brain sharp with a quick Sudoku when PUT-PUT-PUT!! Now what? Tibor had only come back with HARROW attached and set off to give it a quick harrowing. The lady from next door the other side joined us (her name escapes me at the mo). They seem to have no problem with just walking in and talking or whatever. Used to be like that oop-norf when I were a lad. I do believe that both sets of neighbours are just glad to have someone here who is actually taking an interest in the place. Plus the curiosity of it being Johnny foreigner of course. Marika did her usual thing - I have cherry trees, apparently. Only small but cherry trees nonetheless.
I do believe that Tibor is coming round with his rotovator tomorrow. Bloody hell, I'll have to start planting stuff!
Well, I found a new use for a bit of CAT5e - washing line. Can't remember whether I said about not being able to find a washing line or pegs in Tescos - well I couldn't. By the time I'd tied it I had about six feet of usable line, so two pairs of jeans, two tee-shirts and a long sleeved thick top and it was well and truly occupied.
Körmend and a Tescos shop for the weekend was the order of the day. On the way to get the bike out from the outbuilding where it is locked up I decided to have a look at how the flood was doing. It looked decidedly less than it was previously, so I found a suitable piece of stick and sounded it, putting a mark on the wood.
Cycled a different way to Körmend, via Daraboshegy. A very different village to Halogy - much smaller and very neat and spick and span. Onto Körmend and called for coffee at the hotel, then into town. First call was at the tourist centre to see if I could get a local bus timetable. Not a lot of luck there, but they were obviously setting up for an afternoon of music and entertainment - wish I could have stayed. Another time. Next call, the bike shop. I decided to treat myself and buy a cycle computer. I think he saw me coming, because he locked the door when I appeared. (Oh, No! - The Mad Englishman has something wrong with the bike I sold him! Quick, Hide!!!). Anyway another customer kind of told him I was there, so he let me in, and with the aid of the trusty Angol/Magyar szótár he made a sale.
Finally ended up at Tescos. Not really a novelty now. I would think you could do a Tescos in Outer Mongolia without any problems. Decided I needed a torch, so I found that department - hmmmm, expensive, so I bought cheap and nasty and hoped it works. Lo and behold, what was there on the same aisle - clothes line and pegs?????
Did the rest of the shop. Treated myself to a Tesco Value slow cooker - about a tenner. Also got some bits for Tibor and Marika. Wasn't until I got through the checkout that I thought "How the bloody hell am I going to get this home on the bike?". It was in no way going in the back pack. One suitcase strap and the belt off my jeans and that was sorted. Now Steve decided to be clever and go back the route nearest to the river - no hills. Wrong! What the map doesn't show is that you can't cycle along the E66, so you have to go hither and thither and yon. I found my way, after redoubling about 2kms, but the coup-de-grace was the final run into Halogy from the West. Dead straight, dead level and the wind in your face for over a mile. Got home knackered.
Sat on the porch step for a while and recovered. I quite like sitting there actually. Put the bike away and sounded the depth of the flood - down a good three inches, so hopefully it will go away on its own. After a smoke somebody spoke and I went into a dream. NO, No that's the wrong set of lyrics. After a smoke I went indoors and had just about sorted out the shopping when the English contingent turned up. Very, very helpful. Christopher Keeling had a quick once-over outside and told me which bits I need to take care of soonest. There is nothing desperately urgent - not going to fall on me in the night. We talked about plumbing, planning permissions and other stuff - well worth while. They actually came to tell me that they are going to Romania for a week so wouldn't be available to help if all went tits-up. Which was nice.
When they went, I continued with the task in hand, which was to take some flowers for Marika, a bottle of wine for both of them, and a bottle of half decent schnapps type stuff for Tibor. I had no idea whether this was a good idea, or whether it would be acceptable, but it turned out that it was a hit on all accounts. Once Tibor had managed to unlock his Alsation from my arm, he invited me in. True to all that I have read and heard about the Magyar, he fed me shortbread and cake, schnapps and Heineken out of what looked like a champagne magnum bottle. I never saw Heineken like that before. He had a (obviously new) six language phrase book, and with its use, and my Akadémiai Szótár we managed some sort of two way communication. I managed to get away eventually, accusing him of being a good neighbour, to which he accused me of being a good neighbour also! Ended up at the pub, where, to add insult to injury, I had to watch Manchester Untied vs Aston Villa, and Manchester won :( At least it wasn't pissing down here!
On a final, and totally different note for the day. Whoever designed these wood burning stoves really knew what they about. You can get the thing so hot you can't put your hands on it. But if you go outside and look at the smoke coming out of the chimney it barely has enough energy to crawl over the top. That means that probably 90% of the energy that you burn is actually absorbed by the stove and the building - good going. Apparently, the clocks change here this week-end...
...as I found out to my cost, when at what my watch said 7am on a Sunday morning someone is battering the fuck out of my front door. I lay there for a minute or two thinking that whoever it was would get tired of the hammering and banging and basically fuck off. Unfortunately this was not going to happen. Whoever the individual was, he was nothing if not persistent. So eventually I had to answer the door, to be confronted with some overweight individual that I didn't know from Adam who launched into some sort of tirade in Magyarul. I don't know which part of "nem értem" he didn't understand, cos he carried on and on. I think eventually he realised he was flogging a dead horse, so he went. I have not the first faintest what that was about, but I've heard nothing more. Even so, 8am on a Sunday morning is not what I would call sociable!
I went back to bed for a hour.
Got up, coffee for breakfast, then I installed the computer onto the bike - easy-peasy, no probs. Helped by the fact that it is actually a UK product with an instruction sheet in every possible European language. Next I decided to see if I could isolate the leak in the cellar that is playing hell with my water supply. If I want water I have to go and turn it on at the mains, do whatever then turn it off again before I flood the cellar again. Main priority is to ensure that the kettle is always full :)
Found the problem - might tackle it tomorrow - I can't make it worse. There is a separate stop-tap in the cellar that controls the supply there. It is actually the stop-tap that is the problem. I can see that the sealing 'O' ring is not in place and is visible outside the tap. At least I now know exactly what the problem is.
Tibor came round with a container of goodies from Marika - cake, shortbreads and something that looks like cherry cheesecake, but isn't. Made up for the arse-hole at 8am!
By now it was a lovely spring day. There is warmth in the sun, and there was a good stiff breeze blowing. Having procured the wherewithall, I put it to good use. Washing line and clothes pegs!
| | |
| --- | --- |
| Bugs! I had noticed them before, the day I arrived, I think. Well they were out in force today. Black and red things. Not ladybirds, completely different. Same colours (obviously) but bigger and flatter and with a bizarre sex life. They get coupled together at the rear end and go scurrying about their business, whatever that is, whilst obviously indulging in mating. I'm assured they aren't a pest - no danger to crops or whatever, and they don't seem interested in biting humans. In fact I've only seen them by the western side of the house. If anybody knows different, let me know. Otherwise, I'm just intrigued - does the bloke have to walk backwards everywhere or the girl?? If it were ballroom dancing, then obviously the girl! (Reminds me of a Rugby song) | |
Gardening time! I came here with LOADS of seeds. Light, easy to smuggle (na, not really - you can't bring plants but you can bring seeds). So I sorted out those that can go straight in the ground from those that have to be planted with a bit of warmth and nurtured until there is no danger of frost. The outside ones can wait until I get a spade, so I set myself up with a potting shed (I never had one of those before) and sowed a small subset of the tender stuff, stuck it on a tray in a plastic bag and it's now on top of the wood burning stove (which actually doesn't get very hot). I just stuck them in various containers with a bit of wetted soil, hardly seed compost. They'll either grow or not - nothing to lose to speak about.
Steady sort of a day. Set off to see if I could fix the water leak in the cellar. No joy! None of my sockets fitted. I wonder if they are still using Whitworths? The only place I know that still uses Whitworths threads is on the bottom of cameras. The tripod attachment is to this day a quarter-inch Whitworths thread size - talk about legacy!
Next up I cycled to Nadasd, the next village over, where I was assured there was a proper shop that would sell me tools, nails, whatever. Sure enough Bödö Károly was exactly that - a real proper what I would call ironmongers. Only thing. The garden spade comes in kit form. You chose what type of actual digging implement and then you get a handle. The handle is just a straight piece of wood. No proper handle at the top. Bugger that! I purchased it anyway - Hobsons choice. I also bought two or three other items including a panel saw. Total bill just over a tenner.
Went back home to find just outside my front gate a welding set, angle grinders, etc., etc. Ahha, Tibor is on the scene again fixing the catch and lock on my front gate. Well all the stuff was there but no Tibor. He turned up about two hours later and set to. In the meantime I had set to to create a 'proper' spade handle - you know with a T-piece at the top so you can grip it and give it some welly. It's a bit like the Linux version of "If operating systems were airlines". If you haven't read it, do so. Absolutely hilarious.
About 2pm I was having a break and was sitting in my favourite spot for having a break - on the step of my porch. Sat smoking and I'm thinking that it's a bit warm in the sun. I fetched my good thermometer and popped it down. 84 degrees in old money. 29 in new. And yet it was just pleasant, very low humidity and not sweaty at all.
I checked the local bus times because there will be times I won't want to cycle to Körmend. The first bus is at 4:37am! I think not!
Come what may, I am going to the library tomorrow and hopefully I can get this published for you all to have a read. Convenient, it being the last day of March.